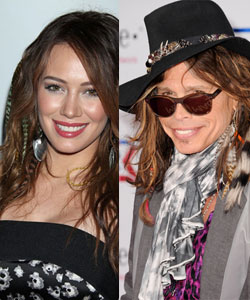 Photo Found
Here
Hair. Earrings. Necklaces. Anywhere. Everywhere. Feathers. Are. Everywhere.
Feathers have been popping around everywhere for the spring and summer seasons and the trend is impossible to miss. One has to wonder, who decided to put feathers in their hair? And the answer to that is American Idol judge and Aerosmith frontman Steven Tyler. And then, the world became feather-crazy.
Since then, girls everywhere have flung themselves to hair salons, mall shops, and boardwalks to clamp a few strands of feathers into their hair. Whether it be neutral feathers, neon feathers, short feathers, long and skinny feathers, fluffy feathers, feathers clamped to your hair, feathers on a clip, anyone in search of feather extensions can find something that suits their fancy.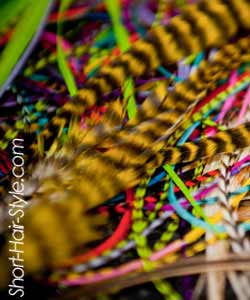 Photo Found
Here
For those who might not want feathers attached to their hair, there is definitely the jewelry and accessory alternative.
My personal favorite way to wear feathers is through earrings (check out my two pairs below!), but retailers also sell necklaces, belts, and hats with feathers on them. Though it's not the real deal, there are also many shirts going around now with feathers printed on them. Note: just wear one accessory at a time, if you wear feathers in your hair, on your ears, around your neck, on your shirt, on your belt, and on your hat, you will look like a bird! Just one thing at a time, and you will ace the feather trend.
Check out my feather earrings! The pink pair is from Nordstrom for around $8 and the turquoise pair is from Bermuda! Cool!
Here is a really cute feather shirt if you don't want to wear actual feathers, but still want to be trendy:
Photo found/shirt can be purchased
here
Is the feather trend a hit or miss for you? Do you have feather extensions in your hair?